SUP Lessons. Escuela Cantabra de SUP
Let´s go SUPING!
SUP courses for all ages and levels. Learn with the Escuela Cantabra de SUP Paddle surfing. A sport accessible to all audiences. SUP of waves or in flat water courses. Voyages in SUP in Cantabria. Enjoy the Bay of Santander in a different and spectacular way.
"Learn to SUP with us"
A sport for all
Island of Santa Marina Excursion
One of our favorite paddle sup tours. The island of Santa Marina is a magical place that in addition to lock up one of the most famous surf waves of Cantabria, has other many secrets. Conditions and wind permitting is a cruise suitable for all sup.
Level of difficulty: medium/advanc

ed duration: 2 hour

s price: €50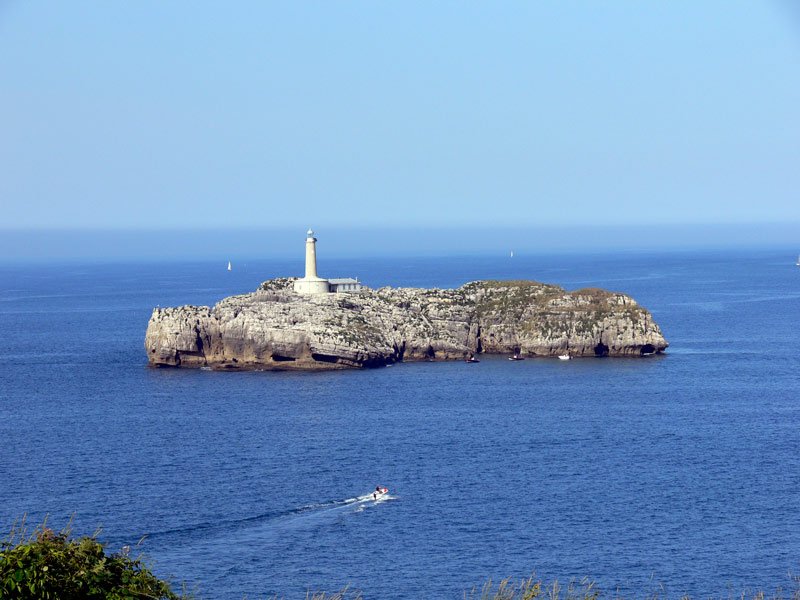 Island of Mouro Excursion
The island of Mouro Lighthouse gives entrance to the Bay of Santander and Somo Beach from a distance. It is a journey of longer and more technical, sup recommended only for our more experienced SUPers. Once on the island, the effort is rewarded by views of indescribable Santander, that can only give you this excursion paddle sup.
Level of difficulty: medium/advanc

ed duration: 2 hour

s price: €50
Crossing Ria de Cubas
Sup is a sport for all, and this trip is suitable for all ages and levels. A walk with tables of sup by an estuary which connects with the sea, in a different view from your sup paddle, which will make you enjoy and feel in full contact with nature.
Difficulty level: initiation,

duration: 2 hour

s price: €50
Info & Bookings
If you have any questions and want our advice, or want to close your reservation please contact us, we will be happy to help / advise you.
"Learn to SUP with us. "Let´s go Suping"
What is the Stand up paddle?
"STAND UP PADDLE surfing", is an ancient form of sliding on the water, in which we sail on a large surf board, helping a rowing we use to move while we are standing on the table. To keep us standing on the table at all times, we will be able to see the waves before surfers and we will have a new and comprehensive vision of the sea, the seabed… certainly one of the main advantages of facing the surf SUP. The main difference between both disciplines, is that SUP don't need waves, although they are closely related and is a sport very complementary to any type of training, including surfing.
HISTORY OF STAND UP PADDLE
Its origin is very old and comes from the Polynesian Islands where the natives already practiced this modality. Hawaiian translation is Ku Hoe I ' e NALU; standing, rowing, surfing a wave. Popularity as a modern sport has its epicenter in the Hawaiian Islands, where at the beginning of the 2000, Hawaiian surfers like Laird Hamilton and Dave Kalama, Archie Kalepa began SUP as an alternative form for your training days that could not be done surfing. They were discovering that Stand Up Paddle surfing allowed them to keep in shape for the big "tow in surfing" days, as well as add new dimensions to their skills.
STAND UP PADDLE – A SPORT FOR ALL
Its attraction lies in the ease of learning and accessibility to all kinds of people, as well as the great variety of forms (waves, touring, FITNESS or RACE) and a comprehensive physical activity. See the mode of SUP that best suits your possibilities and become a TRUE WATERMAN. Discover the sport of Hawaiian Kings. Come to symbolize with us and discover the magic of Stand Up Paddle surfing, with professionals and with total security.
WHY TO CHOOSE ESCUELA CANTABRA DE SUP?
The Escuela Cantabra de Stand up paddle SUP is situated on the beach of Somo, Cantabria. It has the seal Cantabra Surf school, first surf school in Spain with more than 27 years of experience and one of the most prestigious and well-known in Europe surf schools.
We give courses and classes for all ages and levels, both in flat water, paddle sup, SUP as in waves, paddle surf. We have rental and sale of material of sup. In our SUP Shop you can buy boards sup and paddle first surfing equipment.
SUP – Paddle Surf courses
Learn how to SUP with us and change your view on the sea.
1. Technical explanation on Earth. Explanation on the basic characteristics and rules of use of the material that will be used throughout the course. Climb the table. Positioning the table. Remar's knee. Stand up. Rowing foot. Postures of the body, legs and arms.
2. Explanation practice in the water. Entry and exit to the water with security. Balance in the water (stretched, sitting and standing). First strokes. Basic twist. 1eras maneuvers.
SUP Courses on waves – Paddle Surf
Entrance to the water.
Rowing and placement on the top of the sup.
Overcoming of waves (above the wave).
Waiting on the board positions.
Turn the board.
Take the wave.
Take off (take off) and slide position adoption: natural and goofy.
Slide in the wave.
Waiver of the wave. Output of the wave. Falls. Return to the shore.
SUP Courses on Waves
1 class of 2 hours duration.

Course of SUP of waves.

Everything included!
Courses SUP flat water
1 class of 2 hours duration.

SUP in flatwater course.

Everything included!
SUP Excursions
1 trip duration approx. 2 hours.

Experienced local guide

Everything included!
* Subject to availability of groups, once your purchase, contact us to confirm the day of course.
Special Offer for Groups
Stand Up Paddle for groups, we have special offers for large groups, stag and Hen Parties of unmarried /, team building…
www.escuelacantabradesup.com
Phone:
+ 34 609 482 823
+ 34 942 510 615
Email:
ecsurf@escuelacantabradesurf.com
Address:
C / Isla de Mouro, 12. 39140 Somo, Ribamontán Al Mar. Cantabria. Spain.
*Privacy Policy
CLÁUSULA PROTECCIÓN DE DATOS PERSONALES
Autorizo expresamente a la entidad ESCUELA CÁNTABRA DE SURF S.L. con domicilio en ISLA DE MOURO Nº 12, 1ºB, 39140, SOMO (CANTABRIA), a la recogida y tratamiento de los datos  de carácter personal de quien firma, o actúa como representante legal, tutor o curador, de alguna persona menor de edad. Así mismo declaro que se me ha informado convenientemente acerca de la tabla que se presenta en relación al derecho recogido en el art. 13 del Reglamento General de Protección de Datos:
RESPONSABLE: ESCUELA CÁNTABRA DE SURF S.L                                                    DERECHOS: Derecho a solicitar el acceso a los datos personales relativos al interesado.
FINALIDAD PREVISTA: Gestión comercial y financiera como cliente.                            Derecho a solicitar su rectificación o supresión. Derecho a solicitar la limitación de su
Gestión y envío de comunicaciones comerciales.                                                 Tratamiento. Derecho a oponerse al tratamiento. Derecho a la portabilidad de los dato
DPO: Conforme al Art. 37 RGPD no es necesaria la figura de DPO                                 CÓMO EJERCITAR SUS DERECHOS: Solicite nuestros formularios para el ejercicio de
LEGITIMACIÓN: Consentimiento del interesado                                                                  derechos en: ISLA DE MOURO Nº 12, 1ºB, 39140, SOMO (CANTABRIA
DESTINATARIOS DE CESIONES DE DATOS: No se cederán datos salvo que
sea necesario para cumplir con la propia prestación solicitada. No se
cederán datos salvo por mandato legal. Asesoría fiscal y contable.