Surf May San Isidro
Surf Offer
Are you thinking on a surftrip in May? 
Escape from Madrid on the San Isidro holidays in May and come to surf with the Escuela Cantabra de Surf. For those who plan to travel for surfing on San Isidro, we have prepared some surf + accommodation deals that we are sure yo will be interested. 
Surf courses in San Isidro
Surf lessons in San Isidro for all levels and ages. Small groups and homogeneously separated. All material included! 
Surf Rental in San Isidro
More than 300 surfboards and wetsuits to rent. Surfboards, SUP, Skate, Bodyboard … Possibility of testing different surfboards.
Surf + Accommodation Packs in San Isidro
Are you going to take advantage of the San Isidro bridge to travel? In the Escuela Cantabra de Surf we have awesome offers of Surf + Accommodation. 
Surf in May- San Isidro
We know that after the first holiday of May, all our students are left with more desire to surf, so from the Escuela Cantabra de Surf we have prepared new offers to come to surf in Somo on the second Bridge of May, San Isidro Bridge, Where many surfers from Madrid like to get close to our coasts to enjoy the holidays and marvel at the waves of our Cantabria Infinite and with everything that our municipality of Ribamontán al Mar offers.
So you know, if you are thinking about where to go this bridge of San Isidro, the Escuela Cantabra de Surf offers you different packages of surf, surf camps, surf cabins and surf house in somo, suitable for all ages and pockets . Come surf to Cantabria and learn with professionals and the hand of Spain´s Nº1 Surf school.
Remember also that the Escuela Cantabra Surf also has the largest variety of surfboards rentals. So if you are a surfer and you do not want to travel this bridge of San Isidro with your surfboard, we will be happy to help you rent the surfboard that best suits your surfing level.
Throughout the bridge of San Isidro we will be teaching surfing in the mornings from 11-13am and in the afternoons from 16-18pm. Surf lessons for all ages and levels. Learn to surf with the Escuela Cantabra de Surf, learn to surf with local surfers, who will know how to convey your love for surfing and the magic of this great sport. Guaranteed fun.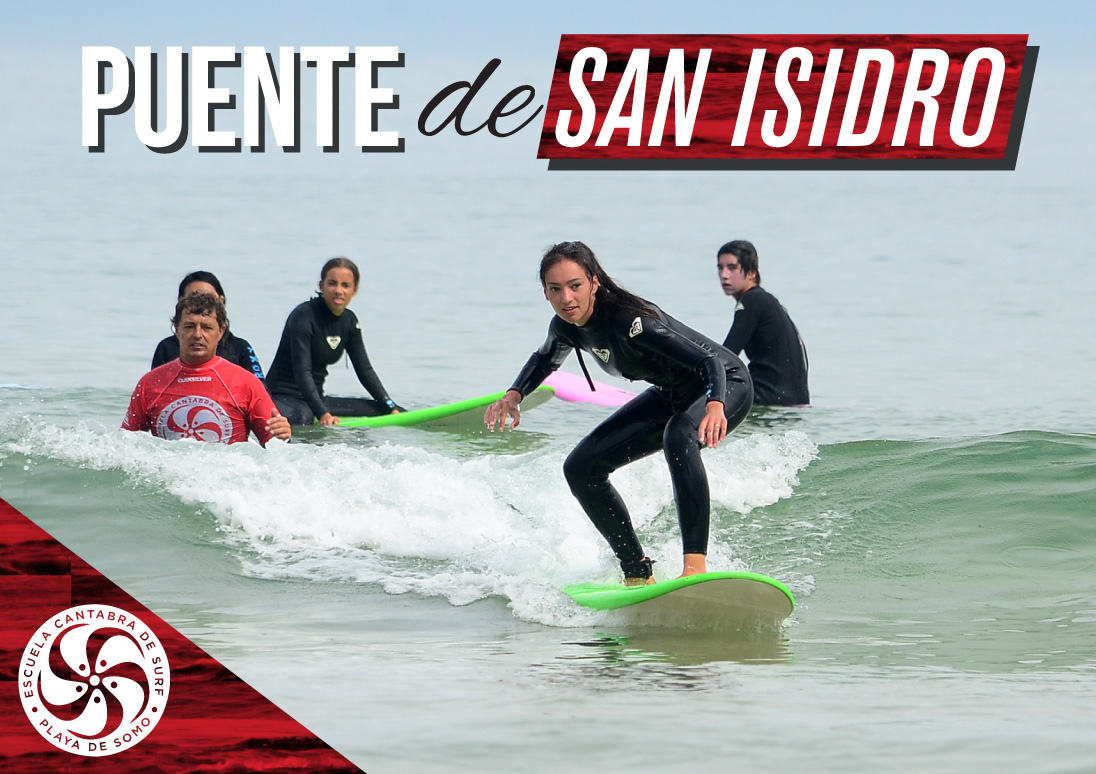 Surf Offer May – San Isidro
3 nights accommodation
Surf Cabins
3 Days of Course
3 Classes of 2Hrs of duration
6 hours in total
4 nights accommodation
Surf Cabins
4 Days of Course
4 lessons of 2Hrs duration
8 hours in total