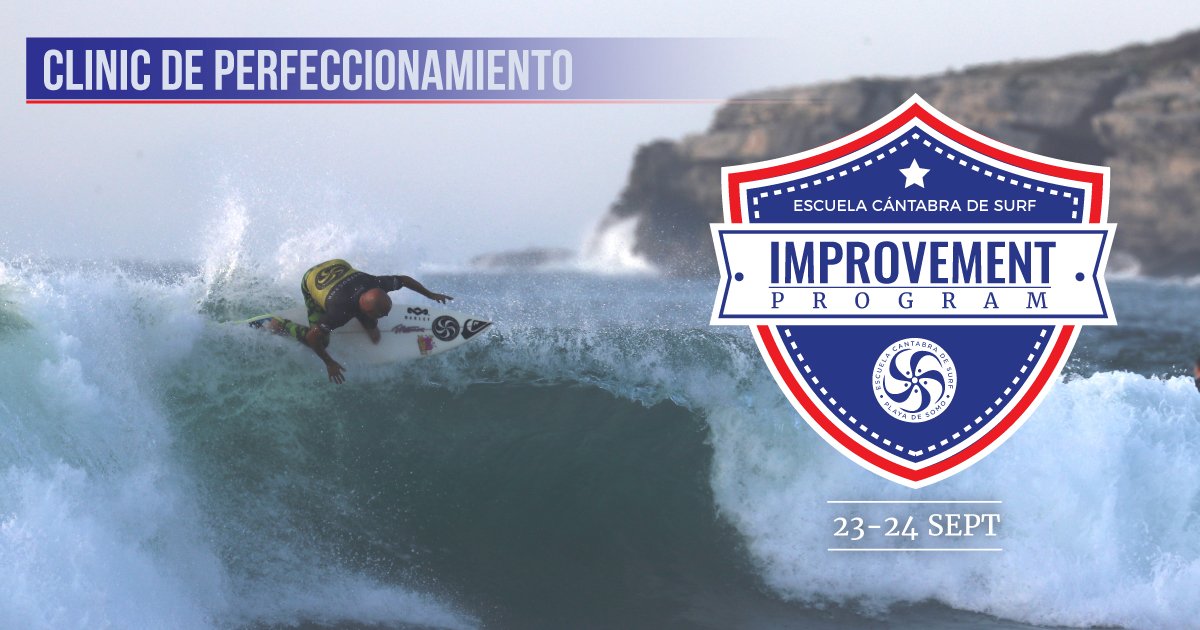 After the success achieved in the previous edition of the "Perfection Clinic" with "Capi" we know that many of you were wishing that we could launch a new edition and finally the wait is over. The new Clinic of Improvement Cántabra Surf School will take place on the weekend of 23 -24 September, of course, on the beach of Somo, Cantabria. We have chosen this date, because the month of September is usually one of the best times of surf in the North of Spain, and the beach of Somo offers excellent waves. In this way you can get the most out of the surf masterclass, surfing good waves, so that we can correct both "in-situ" and later with the video-correction.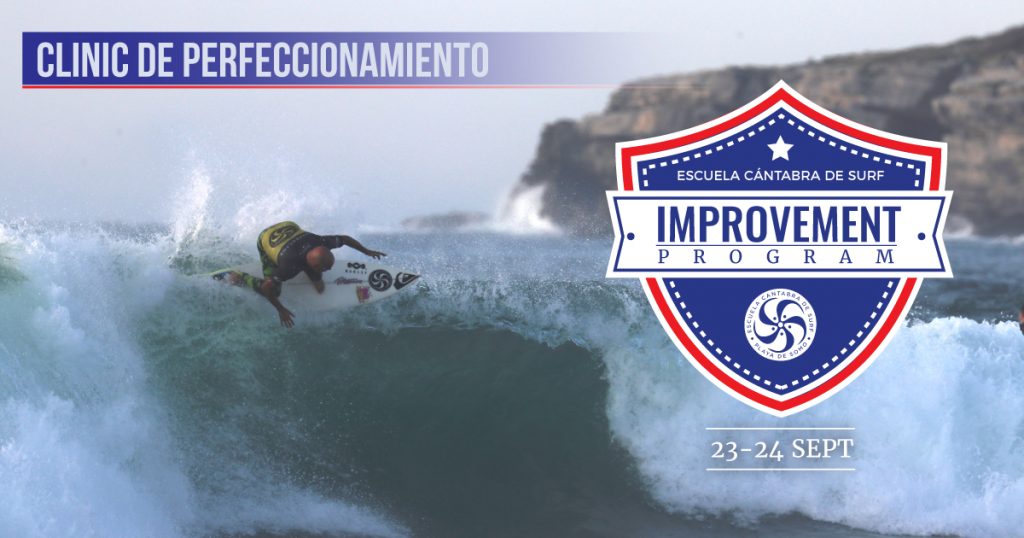 Description of Clinic
An intensive weekend with the aim of improving your surfing. With a multidisciplinary team and a teaching methodology tested for more than 27 years The Cántabra Surf School will guide you and advise you to improve your surfing in a fast and safe way. You can correct bad habits and postures that we all need to work and you will learn new techniques to improve your surf in a significant way. In addition, we will give you some guidelines so you can continue training and working on improving your surfing on your own. In the clinic of perfection will develop a complete program of activities focused on the improvement, from masterclass surfing, recording and correction, talks explaining technical concepts, such as adjusting your table according to your surfing, surfing session skate to get transfers in the water, All within a weekend of coexistence and good atmosphere, where you will enjoy the magic of surfing.
Dates: 23 -24 Sept
September is one of the best times to surf in Cantabria, the first winter seas arrive with high periods that offer quality waves all over the beach. In addition the weather is still warm and feel like spending the day at the beach. Also, to make matters worse, there are far fewer people on the beach.
For all this, we have chosen September 23 and 24 for the realization of the Clinic, with the thought that you can surf the best possible waves and learning is more effective.
Location: Playa de Somo
Somo beach, where the Cántabra Surf School has been based since 1991, is one of the best surfing beaches in Spain. Thanks to its orientation and the shape of the beach, it receives good waves with different seas and winds.

Organized by: Escuela Cantabra de Surf
QUIKSILVER & ROXY SURF CAMPER SCHOOL was created in 1991 and is among the best surf schools in Europe. First surf school in Spain, with more than 27 years of experience. One of the most recognized and prestigious schools in Europe. Driven by surfers, who love surfing. Spacious facilities by the beach.
Responsible: David "Capi" García
36 years surfing and 27 teaching as instructor and trainer. Director of the ECS since 1991, Champion of Spain and Cantabria of surf. Many years in competition, a lifetime dedicated to surfing and currently coach and free surfer. For more than 36 years, he has surfed, competed and traveled all over the world. The last 27 years of his life has been focused on the professionalization and direction of the school … Now he wants to share his knowledge and the love and respect he feels for the ocean with you and teach everyone the magic and the experience of surfing.
CLINIC PERFECTION
(2 master class of surfing, 1 session directed with video recording and projection, 1 session surf skate, 2 technical talks, dossier and welcome pack)
+
BARBECUE SATURDAY NIGHT + PICNIC SATURDAY.
189€

CLINIC + ACCOMMODATION
ACCOMMODATION:
2 NIGHTS + FULL BOARD
(Breakfast Saturday and Sunday, Saturday picnic, Saturday barbecue dinner)
CLINIC PERFECTION
(2 master class of surfing, 1 session directed with video recording and projection, 1 session surf skate, 2 technical talks, dossier and welcome pack)
249€

"DISCOVER THE MAGIC OF SURFING WITH SURFING SCHOOL Nº1 IN SPAIN"
INFORMATION & RESERVATIONS:
QUIKSILVER & ROXY SURF CANCER SCHOOL
PLAYA DE SOMO (CANTABRIA). NORTH COAST SPAIN Roots Since 1991
C / Isla de Mouro Local 10 CP 39140
Contact: David "CAPI" / Nacho García.
Tel: (+34) 942 51 06 15 / 609 48 28 23
Email: ecsurf@escuelacantabradesurf.com
WEB SURF- www.escuelacantabradesurf.com
WEB SKATE- www.escuelacantabradeskate.com
WEB SUP- www.escuelacantabradesup.com
CANAL TV www.escuelacantabradesurf.com/tv
VIMEO www.vimeo.com/escuelacantabradesurf
YouTube:  http://www.youtube.com/escuelacantabrasurf
Facebook: https://www.facebook.com/ESCUELACANTABRADESURF
Twitter: https://twitter.com/ESCUELACANTABRA
Instagram: http://instagram.com/escuelacantabradesurfhttps://www.escuelacantabradesurf.com/tienda/inicio/12884-clinic-de-perfeccionamiento-10-11-junio.html