After a long season it is time to take a well deserved neglect, it is time to renew ideas and see what we have failed, improving our services to make the customer feel at home is our priority number 1. It is also time to charge batteries To return and offer you all that you deserve. The best of the best!
Throughout the winter, the Cantabra Surf School will only be open on weekends, holidays and holidays.
They are hard months and surfing becomes a more extreme sport than ever, but if you are looking for tranquility, spots without people, big waves and without mass, these are the best months and Cantabria, infinitely beautiful in summer, spring, autumn … But also in winter.
During these months you can take advantage of the weekend offer we have prepared that combines surf + accommodation in a single package for only 110 euros per person.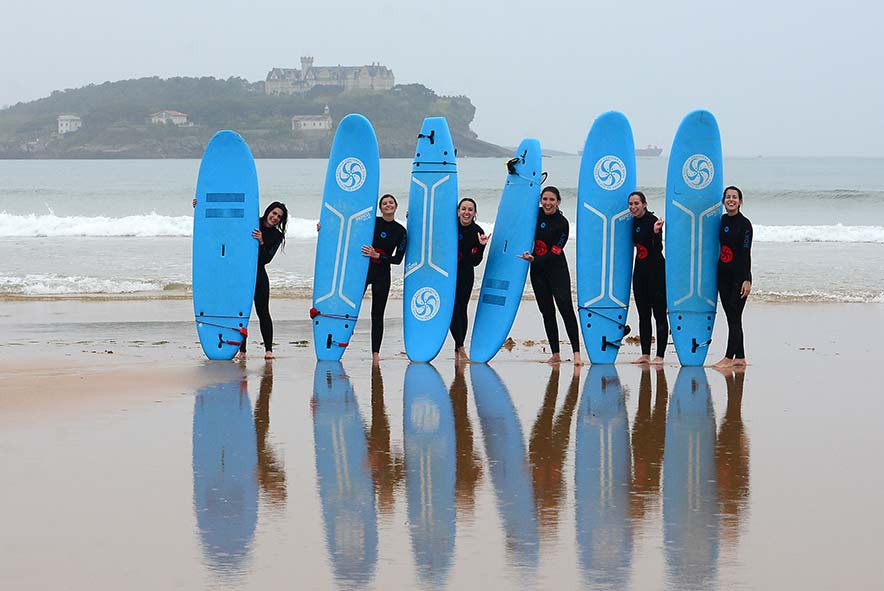 IT INCLUDES:
2 nights accommodation in Somo (Fri-Sun)
2 Days of Surf class (Sat + Sun) 2 hours daily
ALL INCLUSIVE
*Price per person. Offer valid for a minimum of 2 people.
€ 110
So now you know; If you are planning your next surftrip in winter and you are motivated to learn to surf, or improve your surfing, at school we will be waiting for you.
The surf team of the Cántabra Surf School will continue to train when conditions are favorable for our boys.
Also, remember that you already have all Surf Camp and updated information for 2017 in our website www.escuelacantabradesurf.com
"DISCOVER THE MAGIC OF SURFING WITH SURFING SCHOOL Nº1 IN SPAIN"
Information & Reservations:
QUIKSILVER & ROXY SURF CANTABRA SCHOOL Roots since 1991
PLAYA DE SOMO (CANTABRIA). NORTH COAST SPAIN C / Isla de Mouro Local 10 CP 39140
Contact: David "CAPI" / Nacho García.
Tel: (+34) 942 51 06 15/609 48 28 23
Email: ecsurf@escuelacantabradesurf.com
Web: www.escuelacantabradesurf.com
WEB SCHOOL- www.escuelacantabradesurf.com
VIDEOS CHANNEL TV www.escuelacantabradesurf.com/tv
WEB SKATE- www.escuelacantabradeskate.com
WEB SUP- www.escuelacantabradesup.com
WEB HOTEL- www.hotelpinarsomo.com
VIMEO www.vimeo.com/escuelacantabradesurf
YouTube: http://www.youtube.com/escuelacantabrasurf
Facebook: https://www.facebook.com/ESCUELACANTABRADESURF
Twitter: https://twitter.com/ESCUELACANTABRA
Instagram: http://instagram.com/escuelacantabradesurf
QUIKSILVER & ROXY SURF CANTABRA SCHOOL
SURF SCHOOL Nº 1 IN SPAIN
SURF / BODYBOARD / SUP CLASSES
SURF SCHOOL / SURF CAMP / SURF HOUSE / SURF SHOP
SINCE 1991, TEACHING SURF OF TRUTH
PLAYA DE SOMO (CANTABRIA)
25 years of experience and professionalism.
Monitors graduated by the Spanish and European surfing federation.
All ages and levels. Small groups.
Rental of the best material.
Facilities on the beach. Open ALL the year.
Special discounts for groups.
Surf lessons in Spanish, English and Italian.
Family atmosphere. Directed by local surfers.
LEARNING- PERFECTIONING- COMPETITION
SURF WITH US AND COME TO KNOW US … UNFORGETTABLE MOMENTS FULL OF ACTION AND STRONG EMOTIONS.
"EVERYONE should try surfing at least once in their life … it will be an experience you will never forget"