Benefits of sport for children: Surfing, the perfect activity
Children of all ages need to be physically active every day, as this can help establish healthy habits for their future.
By encouraging children to get some physical activity every day, you are helping them to be healthy now, and to learn
to take care of themselves as they grow up.
The most obvious area where children can benefit from sports has to do with the physical health benefits. Sports help
give children a reason and incentive to go outside and enjoy the fresh air, away from the tablets and video games,
and entertain themselves while being physically active! Nowadays, new technologies such as these can have a
negative effect on children and can make it more difficult for them to reach the suggested amount of physical activity
per day.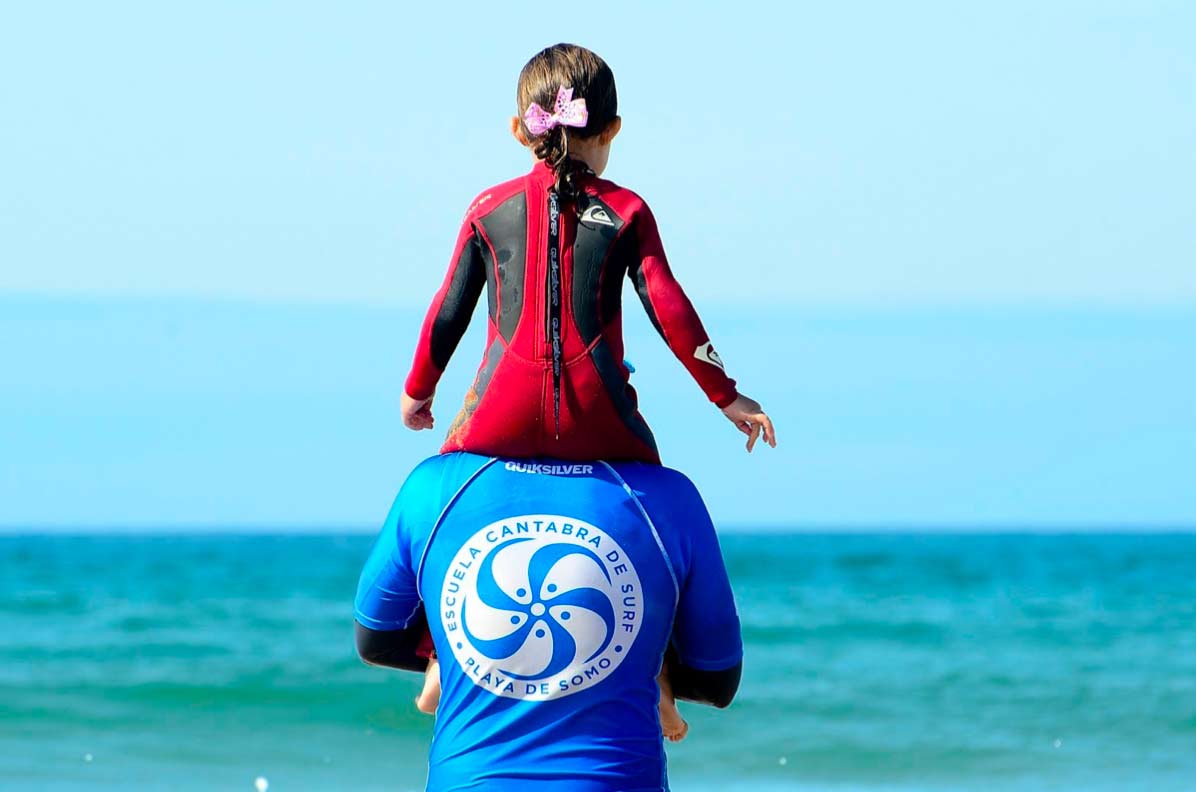 The following are some of the physical benefits that they can receive from participating in sports:● Increased cardiovascular fitness
● Helps prevent hypertension and obesity
● Contributes to better coordination
● Improves balance and flexibility
● Improves posture
● Improves the quality of sleep
Sports also have a lot of other benefits, not only physical health improvements. Some of the main, non-physical
benefits of sports are:
● Helps develop social skills
● Can increase confidence
● Helps self discipline and education
● Helps relieve stress
Finally, there comes the moment to decide which sport your kids or going to practice, and as mother or father always think about what sport they may enjoy and eventually fall in love with. And what is better than trying surfing? Surfing is not only a sport for the young or old, however, it is a sport that can be enjoyed for your whole life, so it could be the perfect place for your children to start! In this case, the Escuela Cántabra de Surf is the best place to start, the best surf school in Spain. Even still, their Surf Camp Menores is one of the best ways to get started in the world of surfing. This is because here, the children aren't alone or unsupervised, instead, they are accompanied by some of the best surf instructors and surf lovers, who will pass on their love for and the magic of surf to the students first hand.
This type of camp combines surfing and camping, while getting to meet and surf with surfers from all over the world! Your children will certainly be unhooked from their tablets and hooked on surfing! Why is the surf camp the best activity for most children?
#Nature
Every child enjoys the beach or the sea in summer, but what about the rest of the year? Surfing allows children to get in touch with nature all year round. Surfing can also help children gain confidence in the water, especially in the ocean. Not only will they learn to enjoy this part of nature and experience it while having fun, they will also learn to face and act upon potential dangers in the sea, such as water currents.
#Complete sport
Similar to other water sports, surfing is an active and tiring sport, which can help balance the energy levels of the young. In addition, surfing helps develop a complete foundation, including endurance, strength, flexibility, and coordination.
#Lifestyle
They will not only learn to surf, they will also learn a lifestyle. Surfing promotes a set of values that other sports do not provide. While surfing, children will work as a team and surf in a group, developing teamwork skills. By including nature in the sport, they will be concerned about our environment and its care and conservation. This is something that will not only apply while they surf, but in their day-to-day life as well. Now we just need to put all our tips into practice! If you need help bringing your child to the lessons, don't hesitate to look for babysitters in Santander. Or if you, as a parent, want to practice or learn to surf yourself, don't hesitate to contact a babysitter using Babysits that can help watching your kid so that you can enjoy the waves too!
In this time of communication and very simple ways to plan trips or, at least, allow us to search millions of photographs and videos of places that used to be distant and strange to us, the world offers us authentic paradises for surfing, dreamy beaches...